Waaaaah!!! Hoe vet is deze winactie? In samenwerking met één van de fijnste airlines, Qatar Airways, mogen wij twee vliegtickets weg geven naar een van de bestemmingen uit het boek Backpack Bestemmingen! Klinkt dit geweldig of klinkt dit geweldig? Dit betekent dat jij, samen met je lievelings reismaatje, een onwijs tof avontuur kunt beleven op een van de beste backpack bestemmingen ter wereld. Benieuwd hoe je kans maakt? Lees heel gauw verder!
Naar welk land uit het boek Backpack Bestemmingen zou jij willen?
Een tijdje terug vlogen wij met Qatar Airways via een stopover op Doha naar Windhoek, om daar een magische rondreis in Namibië te maken. Een onwijs toffe reis en het was daarnaast ook heerlijk om met Qatar Airways te vliegen, al kwam dat misschien ook omdat we heel even hun Business Class mochten uitproberen wat een van de beste business classes ter wereld is!
Nu mogen we jou en je travelbuddy misschien ook laten genieten van een vlucht met Qatar Airways. Want als je wint, mag je een QR-vlucht uitkiezen naar een van de bestemmingen uit het boek Backpack Bestemmingen. Dit boek hebben wij een tijdje geleden uitgegeven en daarin vind je de 23 mooiste bestemmingen voor backpackers. Zo kun je in het boek meer lezen over Zuid-Afrika of Australië, maar ook over Indonesië of het bijzondere Sri Lanka. Let wel even op, want niet op alle bestemmingen uit het boek wordt gevlogen met Qatar Airways, dus check goed waar je naartoe zou willen als je meedoet aan deze giveaway en je reactie plaatst. Alleen hoe doe je nou echt mee aan deze winactie en hoe maak je de grootste kans om die felbegeerde vliegtickets?! We vertellen het je heel graag hieronder!
Hoe doe je mee en maak je kans op de 2 vliegtickets?
Wil jij naar een van de landen uit het boek Backpack Bestemmingen vliegen met Qatar Airways? Zo maak je kans om te winnen op deze ultieme reisprijs:
1. Reageer onder deze Facebook Post en/of onder deze Instagram Post om mee te doen. Laat weten:
Vertel naar welke bestemming jij zou willen vliegen uit het boek Backpack Bestemmingen met Qatar Airways
Tag degene met wie jij op reis wilt en de 2 vliegtickets wilt gebruiken!
2. EXTRA-EXTRA-EXTRA VEEL KANS MAKEN? Deel op jouw eigen socials een foto van jou met het boek Backpack Bestemmingen, een foto van de cover (mag ook een van onze foto's zijn) of een foto van je favoriete hoofdstuk. Tag WeAreTravellers én Qatar Airways. Gebruik #BackpackBestemmingen. En vertel natuurlijk met wie je waar naartoe zou willen vliegen! Heb je het boek nog niet? Dan kun je hem bestellen op Bol.com!
Oh en wil je een reisblog schrijven over jullie trip… Laat dat zeker weten!
Oh en droom je er van om een keer voor ons te schrijven? Laat dat dan ook zeker weten in je reactie en bij je eigen post op social media! Het lijkt ons en Qatar Airways namelijk super tof als de winnaar een reisblog zou willen schrijven over de reis die is gemaakt na de mooie vlucht!
Deel een foto van Backpack Bestemmingen en maak extra kans!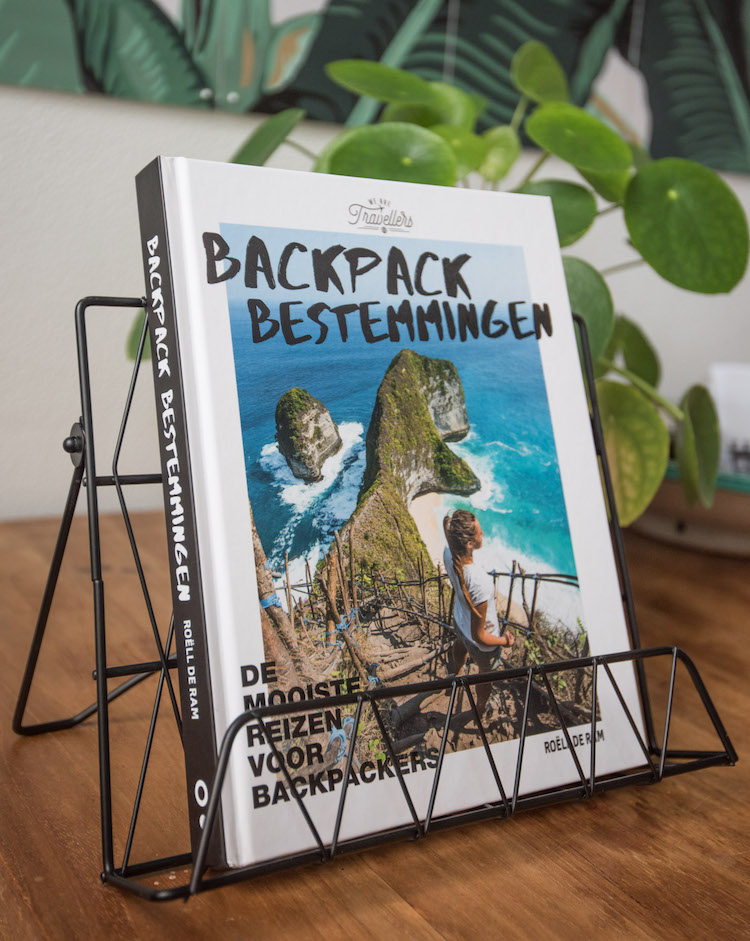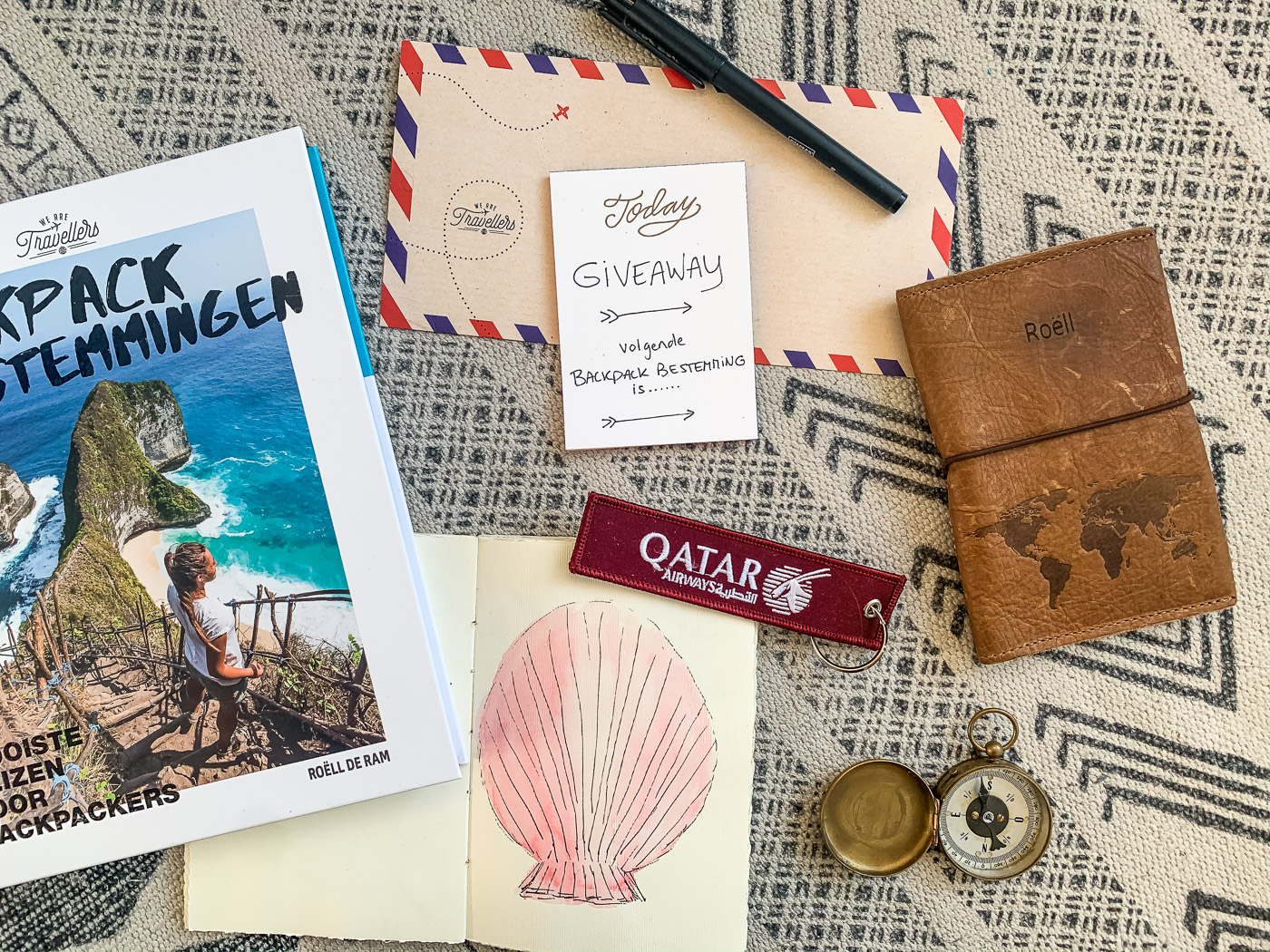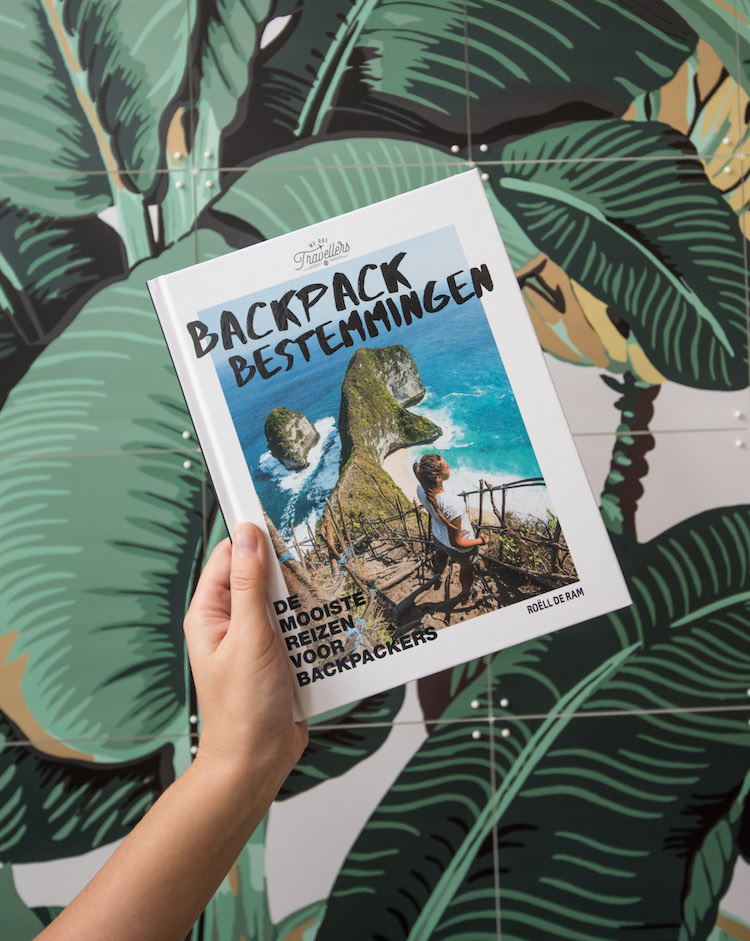 Voorwaarden voor deze winactie
Nog even wat kleine lettertjes, die toch wel erg belangrijk zijn om te lezen voordat je deelneemt aan deze winactie:
1. SUMMARY: The "Fly to a Backpack Destination" Competition is sponsored by Qatar Airways (the "Sponsor" or "Qatar Airways"). The Grand Prize is a pair of tickets to one of the destinations mentioned in the book Backpack Bestemmingen where Qatar Airways flies to. The promotion and Prizes are subject to these Official rules.
2. ELIGIBILITY: The Promotion is open to legal residents who are at least 18 years old, have a valid passport at the time of participation in the Promotion, and is not a winner from any of Qatar Airways' prior promotions. Employees, officers, directors and agents of Qatar Airways, its subsidiaries, other prize sponsors and each of their immediate families (spouse, parents, siblings and children, etc.) and household members are not eligible to participate in the Promotion. NO PURCHASE IS NECESSARY TO PARTICIPATE OR WIN.
3. PARTICIPANTS AGREE TO RULES: All participants must comply with these Official Rules. All interpretations of these Official Rules by QATAR AIRWAYS are final.
4. PROMOTION: This Promotion commences on 09/02/2020 at 3 AM (Local time). Promotion will end on 18/02/2020 at 10 PM (local time).
5. HOW TO PARTICIPATE IN THE PROMOTION:
a) Online participation: A link will be provided across the social media channels of WeAreTravellres.nl and on the WeAreTravellers website that inform viewers of the contest. Viewers must visit the link for more details of the Promotion. Terms and Conditions will also be viewable on the published link. The participant must agree to the Terms and Conditions of the Promotion before the participating. Participants will need to answer the question published on the Facebook post or Instagram post in the comment section, and tag their favorite travel buddy. To get a bigger chance of winning, they can share a photo of the book Backpack Bestemmingen on their own social media channels, tag WeAreTravellers, tag QatarAirways and answers the question about this giveaway in the description section of the post.
b) Once the Promotion has ended, WeAreTravellers and the Qatar Airways Head office in Doha will choose the Winner based on the quality of the entry received.
c) Once the Winner has been selected, they will be contacted as follows: Sponsor will send a private message via Facebook or Instagram to the account owner with the entry of the Participant.
d) The Winner will have 48 hours to confirm receipt of the message to claim the prize. Failure to respond in the specified time period, an alternate winner will be selected. The Winner must sign a Winner's Affidavit and Release to be eligible to be awarded the Grand Prize. Sponsor reserves the right to ask for proof of residency in his country or his country of residence to validate the winning entry. Failure to do so will disqualify the winner.
6. PRIZES: One (1) winner will receive the Grand prize for the Promotion, comprised of the following item: Two (2) return Qatar Airways' Economy Class tickets (winner + companion) from Amsterdam to a destination in the book Backpack Bestemmingen where Qatar Airways flies to.
• The prize is subject to availability, very limited during school holidays and peak travel seasons.
• Approximate value for each prize is around one thousand five hundred United States Dollars (USD 1,500). The winner shall only be entitled to one (1) prize which is one (2) return tickets for himself and his/her travelbuddy. Qatar Airways Conditions of Carriage shall apply.
• Participants must be 18 years old and reside in the Netherlands.
• The flight must be booked no later than March 31, 2020, for travel until June 30, 2020.
• Travel and reservations can only be made 3 months prior to travel (departure and return date needs to fall within this 3 months period) Extension of validity is not allowed.
• Black-out dates: School holidays.
• Taxes and supplements included.
• Tickets are valid only on Qatar Airways flights – alliances, partners and franchised routes not included.
• Ticket issued in the name of the winners only.
• Once tickets are issued, no changes are allowed.
• The ticket(s) have no cash value and are non-endorsable, non-routable and valid on Qatar Airways only.
• The prize cannot be exchanged for goods or cash, nor can it be sold to any other person.
• The prize doesn't offer access to Qatar Airways lounges
7. THE VALIDITY PERIOD for the prize tickets may not be extended and prize tickets may not be rebooked. Sponsor is not liable for any expense incurred as a consequence of a flight cancellation or flight delay. The prize tickets will be issued as electronic tickets. Travel is subject to availability and certain other restrictions, which are subject to change in the sole discretion of Sponsor. Flight schedules are subject to change without notice.
8. RESTRICTIONS ON ALL PRIZES: Prizes are provided "as is" and without any warranty of any kind. No cash redemption or prize substitutions are allowed. Sponsor reserves the right to substitute prize of equal or greater value in Sponsor's discretion or if a Prize becomes unavailable without advance notice. Sponsor shall have no responsibility or obligation to a Winner who is ineligible for a Prize, or is unable to or who does not accept or utilize the Prize awarded, for any reason.
9. PUBLICITY RELEASE: Subject to applicable law, each Winner irrevocably grants Sponsor the right to use the Winner's name, voice, photograph and/or biographical data for advertising, promotional and/or publicity purposes in all forms of media, worldwide in perpetuity, without any obligation or consideration except for the awarding of the prize to the Winner.
10. PRIVACY: Information submitted in connection with the Promotion will be treated in accordance with these Official Rules and Sponsor's Privacy Policy (as may be amended from time to time), currently located at https://www.qatarairways.com/en/legal/privacy-policy.html.
11. Release of Liability: BY PARTICIPATING, EACH PARTICIPANT AGREES TO RELEASE AND HOLD SPONSOR AND SUBSIDIARIES, AFFILIATES, DIVISIONS, AND ITS EMPLOYEES, OFFICERS, DIRECTORS, AND AGENTS, AS WELL AS FACEBOOK, TWITTER, YOUTUBE, INSTAGRAM, AND GOOGLE, HARMLESS FROM AND AGAINST ANY CLAIMS, ACTIONS, LOSSES, DAMAGES, OR LIABILITY OF ANY KIND, INCLUDING WITHOUT LIMITATION, PERSONAL INJURIES, DEATH, OR PROPERTY DAMAGE, OR ANY DIRECT, CONSEQUENTIAL, OR INCIDENTAL DAMAGES, WHICH PARTICIPANT OR ANYONE ELSE MAY INCUR AS A RESULT OF THIS PROMOTION OR THE USE, OR MISUSE OF ANY PRIZE. BY PARTICIPATING, EACH PATICIPANT HEREBY KNOWINGLY AND EXPRESSLY WAIVES ALL RIGHTS TO SEEK, PUNITIVE, INCIDENTAL, CONSEQUENTIAL OR SPECIAL DAMAGES, LOST PROFITS AND/OR ANY OTHER DAMAGES AGAINST SPONSORS OR THEIR RESPECTIVE AFFILIATES, AGENCIES, AND EMPLOYEES. QATAR AIRWAYS TOTAL LIABILITY FOR ALL CLAIMS ARISING OUT OF OR IN CONNECTION WITH THE PROMOTION SHALL BE LIMITED TO THE VALUE OF THE PRIZES WON BY A PARTICIPANT.
12. FORCE MAJEURE: EXCEPT AS OTHERWISE EXPRESSLY SET OUT IN THESE TERMS AND CONDITIONS, QATAR AIRWAYS AND ITS SUBSIDIARIES, AFFILIATES, DIVISIONS, AND ITS EMPLOYEES, OFFICERS, DIRECTORS, AND AGENTS SHALL NOT BE LIABLE OR RESPONSIBLE FOR ANY FAILURE TO PERFORM, OR DELAY IN PERFORMANCE OF, ANY OF THEIR RESPECTIVE OBLIGATIONS THAT ARE CAUSED BY EVENTS OUTSIDE OF THEIR REASONABLE CONTROL. QATAR AIRWAYS IS NOT RESPONSIBLE IF THE PROMOTION TERMINATES OR ANY PRIZE CANNOT BE USED OR REDEEMED DUE TO ACTS OF GOD, WAR, TERRORISM, EXPLOSIONS, FIRES, FLOODS OR OTHER NATURAL CALAMITIES, BAD WEATHER, STRIKES, RIOT, CIVIL DISRUPTION, INTERNET FAILURES, OR OTHER ACTS OF GOD OR THE WINNER, OR FOR ANY OTHER OCCURRENCES WHICH ARE OUTSIDE OF QATAR AIRWAYS' REASONABLE CONTROL.
13. DISCLAIMERS: If this Promotion cannot be administered as contemplated for any reason, Sponsor reserves the right at its sole discretion to suspend, modify or terminate the Promotion, winner selection, or prizes without prior notice. This promotion is not sponsored, endorsed or administered by, or associated with, Facebook, Twitter, Instagram, WhatsApp, Google, YouTube, Facelift, or any other social media platform.
14. GOVERNING LAW: This Promotion is subject to all applicable federal, state and local laws and regulations. All issues and questions concerning this Promotion will be governed by the laws of the State of Qatar and is VOID WHERE PROHIBITED OR RESTRICTED BY LAW.
Outside the State of Qatar
Where, in relation to contracts with consumers (being individuals acting in a private capacity), the laws of Your country of residence ("Laws") require that:
i. The Laws shall apply to any such contract; and
ii. You may bring proceedings in the courts of Your country of residence ("Courts"), then the Promotion and these Terms and Conditions shall be governed by the Laws and shall be subject to the exclusive jurisdiction of the Courts.
TAXES: Winners are responsible for paying any applicable federal or local taxes on prizes.
WINNER NAME: The winner's name may be posted on Sponsor's social media channels
(Twitter, Facebook, Instagram, etc.) accompanied with the winning submission, at the Sponsor's discretion.
17. SPONSOR: This Promotion is sponsored by Qatar Airways, Q.C.S.C. PO Box 22550, Doha, Qatar ("Sponsor"). The decisions of the Sponsor are final and binding on all aspects of this Promotion. The Promotion is run and sponsored by Qatar Airways in complete independence from any local government offices or tenders.